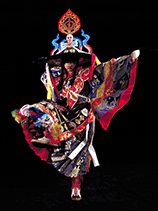 The Tibetan Monks from Drepung Loseling Monastery share cultural traditions that date back 600 years in the performance Sacred Music, Sacred Dance on Friday, Nov. 22, at 8:30 p.m. in Bryn Mawr College's Goodhart Hall.
Sacred Music, Sacred Dance features the famed multiphonic singers in an inspiring performance of Tibetan Buddhist music and chants traditionally done for purification and healing.
Tibetan temple music is particularly renowned in the west for its two forms of multiphonic singing known as jok-kay (low tone) and bar-da (high tone). In both forms, each of the main chantmasters simultaneously intones three notes, thus each individually creating a complete chord. The Tibetans are the only culture on earth that cultivate this most extraordinary vocal ability. This tradition is also known as "overtone singing" because it is accomplished by means of learning to control the muscles of the vocal cavity and then re-shaping it while singing, thus intensifying the natural overtones of the voice. In effect, the body is transformed into an effective overtone amplifier.
To see the full program for the performance, visit the Drepung Loseling Monastery website.
The Drepung Loseling monks are featured on the Golden Globe nominated soundtrack of the motion picture Seven Years in Tibet. They also performed with Philip Glass in the live premiere presentation of his Academy Award nominated music/score to the Martin Scorsese film Kundun. The Mystical Arts of Tibet was featured at the July 4th, 2000 celebration at the National Mall, Washington, D.C. where they performed to an audience of over 50,000. On previous tours, the monks have shared the stage with Philip Glass, Kitaro, Paul Simon, Sheryl Crow, Michael Stipe, Patti Smith, Natalie Merchant, the Beastie Boys and many others. They have also performed in such prestigious venues as Carnegie Hall, the Herbst Theater and the Ravinia Festival, and have appeared in hundreds of university auditoriums, civic halls, festivals and churches across the country.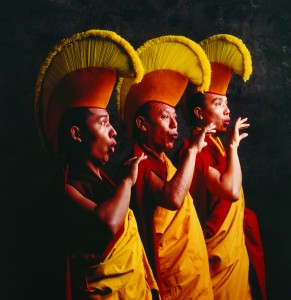 Ticket Info
Free tickets to all Performing Arts Series events are available for students, faculty, and staff of Bryn Mawr, Haverford, and Swarthmore colleges.
For all others:
Tickets to individual events in the Bryn Mawr Performing Arts Series cost $20, $18 for seniors, $10 for students with ID, and $5 for children under 12. Tickets are $10 for Dance Pass holders. Season subscriptions are $75 for seniors, $90 general. Tickets and are available through Brown Paper Tickets or by calling the Office for the Arts at 610-526-5210.
As an orientation to the special world of
Sacred Music, Sacred Dance with the Monks of Drepung Loseling Monastery
the Performing Arts Series invites you to a free event:
Master Storyteller Laura Simms:

The Pilgrimage to Tiger's Nest and Other Tales
November 22, 7:00 – 8:00 pm
Quita Woodward Room, Thomas, Bryn Mawr College
(
#20 on campus map
)
Simms will combine personal narratives about her experience of Tibetan Buddhism with traditional tales that illumine how, in a culture far different than ours, compassion and skillful means are experienced and perpetuated.
Stories will include:
The Pilgrimage to Tiger's Nest – a personal tale of climbing to an ancient monastery in Bhutan and meeting dieties, monks and nuns while encountering both obstacles and joy.
Tale of Padmasambhava
Yeshe Tsogyal Meets Robbers on the Road
Hariti, She Who Steals Away Our Sorrow – this story about a protector of children exemplifies the fundamental Buddhist belief that every person is basically good. It is also about reincarnation. Rather than punishment, the tales depend on transformation of energy – from inner rage and revenge to compassionate action into the world.
The Cow that Feeds the World
Instructions from a Buddhist Teacher
These stories are appropriate for all ages.

ABOUT THE BRYN MAWR COLLEGE PERFORMING ARTS SERIES:
Since 1984 the Bryn Mawr College Performing Arts Series has presented great artists and performances to audiences in the Philadelphia area, creating an environment in which the value of the arts is recognized and celebrated. Talks and workshops provided free to the public help develop arts awareness and literacy. The Series works to lower barriers to arts access through its partnership with Art-Reach, a nonprofit dedicated to improving arts accessibility for people of all ages and circumstances, and through its low ticket prices. Partnering in recent seasons with such organizations as the Baryshnikov Arts Center, the Bryn Mawr Film Institute and the Philadelphia Live Arts Festival, the Bryn Mawr College Performing Arts Series has presented performances and enriching events by such luminaries and visionaries as Meredith Monk, John Waters, Il Fondamento, the Khmer Arts Ensemble of Cambodia and Urban Bush Women.
The Bryn Mawr College Performing Arts Series gratefully acknowledges support from The Miriam Schultz Grunfeld '69 Fund, established by Carl Grunfeld, M.D., friends, and family members in memory of Miriam Schultz Grunfeld '69. Since 1996, the Grunfeld Fund has enriched student life by supporting art history, the arts and literature.
The Bryn Mawr College Performing Arts Series gratefully acknowledges support for its 2013-14 season from the Pennsylvania Council on the Arts.